Toyota Suppliers'
Club Directory
SEARCH
TSC Directory -
Metal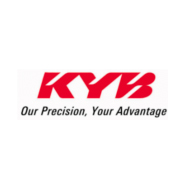 Company Information
Company Name
KYB-UMW MALAYSIA SDN. BHD.
Director Name
MR. MAKOTO KIMURA
Director Position
MANAGING DIRECTOR
Company Address
LOT 8, JALAN WAJA 16, 42500 TELOK PANGLIMA GARANG, KUALA LANGAT, SELANGOR DARUL EHSAN.
Factory Address
NO 16, JALAN PERAK, 42500 TELOK PANGLIMA GARANG, KUALA LANGAT, SELANGOR DARUL EHSAN.
Contact Information

Office Telephone No
+603-3122 6222
Office Fax No
+603-3122 6677
Factory Tephone No
+603-3122 7344
Factory Fax No
+603-3122 6677
Website
http://www.kyb.com.my
Contact 1
MR CHEOW LIP HENG
Contact 1 Email
cheow.lip.heng@umw.com.my
Contact 1 Position
ASST.GENERAL MANAGER SALES & OPERATIONS SUPPORT.
Contact 2
MS.NG YEN KEOW
Contact 2 Email
ng.yen-keow@umw.com.my
Contact 2 Position
S&M EXECUTIVE
Other Information
Company Registration No
103151-W
Date of Incorporation
22-06-1983
Current Paid-up Capital
MYR 8.8 MIL
Annual Sales Turnover
MYR 233 MIL
Number Of Employee
723
Product Manufactured
Strut and Shock Absorbers For 2W & 4W.
Certification & Standards
ISO 14001, ISO/TS 16949 & OHSAS 18001
Technical Collaborators
KYB CORPORATION, JAPAN
Main Production Process
Welding, Sub Assy, Hard chrome plating, Final assembly & Painting.
Manufacturing Facilities
Servo Type Performance Test Machine, Fatique Tester, Salt Spray Tester, Endurance Test Machine, Drum Tester, Sound Proof Room, Tensile Strength Tester & Catia Cad System.
Other Customers
PROTON, PERODUA, NISSAN, YAMAHA, MODENAS, SUZUKI, ISUZU, HINO, INOKOM AND OTHERS
Company Introduction

KYB-UMW Malaysia Sdn Bhd was set up in June 1983 under the name of Kayaba (Malaysia) Sdn Bhd, is a specialist in manufacturing high quality Shock Absorbers. Through the strong bilateral relationship and cooperation between KYB-UMW Malaysia and KYB Corporation, Japan the KYB-UMW Group is now exporting its product to more than 20 countries. Furthermore, KYB-UMW Malaysia has the technological support of KYB Group worldwide. With the sharing of advance technical know-how the KYB Group is able to penetrate more markets worldwide. Since its inception 28 years ago, KYB has grown from its humble beginning to one of the largest manufacturers of shock absorbers in Malaysia! With its reputation of reliability, quality, comfort and most importantly safety, it has instilled a sense of confidence to its consumers.

The products are manufactured under very strict manufacturing standards and are in compliance with international requirements thus propelling the company to be a global entity. Its research and development is always in constant advancement in tandem with the latest trend, therefore fulfilling the needs of consumers' high expectation nowadays. As such the company strives to always be one step ahead of its competitor to ensure it remains the leader in this competitive industry.

Quality Assurance - It is through these stringent quality standards and our continuous commitment towards research and development that have enabled us to constantly address our No.1 priority – total customer satisfaction. With our global motto of "Customer First, Quality First", KYB Shock Absorbers are now recognized worldwide for its sheer quality and customer satisfaction. With the collaboration of influential organizations around the world, KYB-UMW Malaysia will continue to offer its customers the best possible products that meet their requirements. The KYB Group's worldwide tagline is "Our Precision, Your Advantage" and you can rest assured that we plan to be focused on creating a product that will benefit our customers 100%.