Toyota Suppliers'
Club Directory
SEARCH
TSC Directory -
Others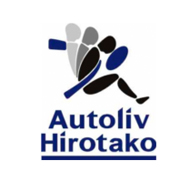 Company Information
Company Name
AUTOLIV HIROTAKO SAFETY SDN. BHD.
Director Name
MR.NGEOW ZOO GIN
Director Position
CHIEF OPERATING OFFICER
Company Address
LOT 1989, LEBUH TANMING, TAMAN TANMING JAYA, JALAN BALAKONG, 43300 SERI KEMBANGAN, SELANGOR DARUL EHSAN
Factory Address
LOT 1989, LEBUH TANMING, TAMAN TANMING JAYA, JALAN BALAKONG, 43300 SERI KEMBANGAN, SELANGOR DARUL EHSAN
Contact Information

Office Telephone No
+603-8961 2020
Office Fax No
+603-8961 5010
+603-8961 3326
Factory Tephone No
+603-8961 2020
Factory Fax No
+603-8961 5010
Website
http://www.hirotako.com.my
Contact 1
MS. IRENE TAN
Contact 1 Email
irenetan@autolivhirotako.com.my
Contact 1 Position
MANAGER, SALES & MARKETING
Other Information
Company Registration No
138113-K
Date of Incorporation
06-04-1985
Current Paid-up Capital
MYR 2 MIL
Number Of Employee
319
Product Manufactured
Emergency Locking Retractor (ELR) Belts, Static & Lap Belts
Certification & Standards
ISO 9001:2000, ISO/TS 16949:2002, ISO 14001:2004, MS ISO/IEC 17025, OHSAS 18001:2007
Technical Collaborators
AUTOLIV AB
Main Production Process
Seat Belts Systems Assembly, Airbag Assembly, Steering Wheel PU Injection & Assembly.

Manufacturing Facilities
Seat Belt Assembly, Airbag Assembly, PU Injection & Steering Wheel Assembly
Other Customers
PROTON, PERODUA, HONDA, TAN CHONG MOTORS
AND OTHERS OEM CUSTOMER


Company Introduction

Autoliv Hirotako is a specialist in safety restraint systems which comprise of seat belts, airbags and steering wheels. Its products are supplied to all major original equipment manufacturers (OEM) in the automotive industry in Malaysia. Besides manufacturing, it has the capability to design, test, develop and integrate the restraint systems.
Autoliv Hirotako has long been recognized as the market leader in Malaysia. Being in this position provides us with the economies of scale to invest in the latest facilities and technologies. These investments enable us to bring the latest technologies to our customers at high efficiency levels, thus giving them the competitive edge in their business.
Autoliv Hirotako's subsidiaries, Autoliv Hirotako SRS & Autoliv Hirotako Safety, are both TS 16949, ISO14001, OHSAS18001:2007, China Compulsory Certificate(CCC) and ISO/IEC/7025 certified companies. With this achievement, our operating companies are committed to produce high quality competitive prices at all time.