Toyota Suppliers'
Club Directory
SEARCH
TSC Directory -
Metal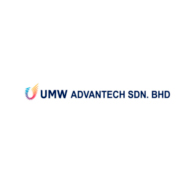 Company Information
Company Name
UMW ADVANTECH SDN. BHD.
Director Name
MR. CHEW CHEE LOON -E.D.
Director Position
ACTING HEAD, M&E DIVISION.
Company Address
NO:6, JALAN UTAS 15/7, BATU TIGA INDUSTRIAL ESTATE, 40200 SHAH ALAM, SELANGOR.
Factory Address
NO:6, JALAN UTAS 15/7, BATU TIGA INDUSTRIAL ESTATE, 40200 SHAH ALAM, SELANGOR.
Contact Information

Office Telephone No
+603- 5163 5000
+603- 5163 5301
Office Fax No
+603- 5519 0132
+603- 5518 4015
Factory Tephone No
+603- 5163 5238
Factory Fax No
+603- 5513 0516
Website
http://www.umw-advantech.com
Contact 1
MR.MOHD RUSLAN BIN ABDUL GHANI
Contact 1 Email
ruslan.abd.ghani@umw.com.my
Contact 1 Position
SENIOR GENERAL MANAGER.
Contact 2
MR.AHMAD RAMLAN BIN DAHARI.
Contact 2 Email
ahmad.ramlan@umw.com.my
Contact 2 Position
GROUP MANAGER- OEM BUSINESS, SALES & MARKETING DEPT.
Other Information
Company Registration No
12635-H
Date of Incorporation
15-08-1972
Current Paid-up Capital
MYR 38 MIL
Annual Sales Turnover
MYR 115 MIL
Number Of Employee
226
Product Manufactured
Oil Filters, Air Filters, Charcoal Canisters, Fuel Filters, Plastic Parts (Engine & Interior), Brake Reservoirs, Plastic Int. Manifolds, Plastic CYL. Head Covers, Plastic Belt Covers & Metal Parts for Exhaust Pipe.
Certification & Standards
TS 16949:2002, ISO 14001, ISO 90001 & OSHA 18001.
Technical Collaborators
MANAGED PROGRAM INC.USA (MPI) - TECHNICAL CONSULTANT.
Main Production Process
Plastic ASSY Lines, Metal ASSY Lines & Oil Filter ASSY Line.
Manufacturing Facilities
Plastic Injection Molding, Stamping Press M/C & Oil Filter ASSY Line.
Other Customers
PROTON, PERODUA, HONDA, PEPS-JV, UVI SB, ISUZU-HICOM, MODENAS, AISB, PROTON PARTS, PERODUA SALES, MTU GERMANY, SAPURA BRAKE, TRW, INOKOM
Company Introduction

Formerly known as UMW Auto Parts Sdn Bhd, and changed name to UMW Advantech Sdn Bhd in early 2007. Key business in automotive components, with specialty in auto. filtration products, namely oil, air, fuel and carbon filters. Diversified business into small and medium size plastic products such as plastic intake manifold and plastic cylinder head covers, as well as belt covers and interior plastic parts. Major customers locally are Proton and Perodua, with less than 5% export, such as to MTU Germany. A TS 16949 certified, coupled with OHSA 18001 and ISO 14001. Has capability in R&D and in-house testing laboratories, which includes salt spray tester, thermal cyclic chamber tester, Air Cleaner Assy tester, CMM tester to name a few. Looking to diversify business into non automotive areas like electrical, marine and oil & gas business within next 3 years. Backed by parent company, UMW Holdings Berhad, a conglomerate company in the GLC Group which has business in Automotive, Equipment and also Oil & Gas industry. Several accreditation award by Proton, Toyota Malaysia and Perodua in the recent years.