Toyota Suppliers'
Club Directory
SEARCH
TSC Directory -
Others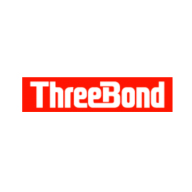 Company Information
Company Name
THREE BOND TECHNOLOGY (M) SDN. BHD.
Director Name
MR.WAKAI HITOSHI
Director Position
MANAGING DIRECTOR
Company Address
NO. 2, JALAN TP 7/6, SIME UEP INDUSTRIAL PARK, 40400 SHAH ALAM, SELANGOR DARUL EHSAN, MALAYSIA.
Factory Address
NO. 2, JALAN TP 7/6, SIME UEP INDUSTRIAL PARK, 40400 SHAH ALAM, SELANGOR DARUL EHSAN, MALAYSIA
Contact Information

Office Telephone No
+603-5192 6062
+603-5192 6075
Office Fax No
+603-5192 5322
Factory Tephone No
+603-5192 6062
Factory Fax No
+603-5192 5322
Website
http://www.threebond.co.jp/
Contact 1
MR.JASON CHEW
Contact 1 Email
sales5@threebond.com.my
Contact 1 Position
ASSISTANT SALES MANAGER
Other Information
Company Registration No
425251-M
Date of Incorporation
29-03-1997
Current Paid-up Capital
MYR 750K
Annual Sales Turnover
MYR 18 MIL
Number Of Employee
39
Product Manufactured
Liquid Gasket, UV Glue, MEC Coating, Instantaneous Adhesive, Epoxy Resin, Thread Locking Agents, Sealant & Rust-Proof Lubricants.
Certification & Standards
IS09001 2008
Main Production Process
Liquid Gasket For Automotive Field, Adhesive For Electronics Field, Adhesive For Medical Field, Thread Locking Agents, Sealants, Rust-Proof Lubricants, UV Curing Resins For HDD, Instantaneous Adhesive, MEC Coating, Epoxy Resin, Ultraviolet Curing Resin & Etc.
Manufacturing Facilities
Facilities in JAPAN, EUROPE, THAILAND, CHINA, SINGAPORE, VIETNAM, INDIA & ETC
Other Customers
PERODUA ENGINE, PERUSAHAAN OTOMOBIL, HONDA MALAYSIA, HICOM YAMAHA, OMRON MALAYSIA, B-BRAUN MED, EPSON TOYOCOM, CANON OPTO, CANON MACHINERY, SONY EMCS, ALPHS MALAYSIA, PANASONICS, SAMSUNG & ETC
Company Introduction

THREE BOND'S fine chemical technology has earned it a top-ranking position in the domestic market in the field of industrial sealants and adhesives, which has allowed us to gain the strong trust of our customers. ThreeBond originated from an idea that came to the founder when he saw drops of oil on a road. He decided to do a job to prevent a loss. In a few words, ThreeBond is truly a fine chemical technology company, whose development has had as its goal the efficient use of energy. We, ThreeBond, provide our customers with efficient solutions for the problems in development and manufacturing, and produce a variety of fine chemical products to solve their problems.

ThreeBond's products are now used in a wide variety of applications. They are deployed in automobiles and other vehicles, public construction materials, building materials, electric and electronic equipment, and high technologies. We hold the number one position in industrial sealants and adhesives in Japan, and we have won the faithful reliance of our customers.
We want to contribute to the world by using high technology to produce excellent products, and by helping to establish and spread the feelings of friendship that are essential to building a better society.